I just got my NMSVE in the mail...
So, you just received your NMSVE.... CONGRATULATIONS! 🙌🎉
We're glad you chose to join the Noise Machine fanbase. Now, whether you're a novice or well versed in all things MIDI, we're sure you're wondering how to get started using your brand new NMSVE....
Well, look no further! This is the start of a growing list of text based tutorials you can turn to any time you need help with your NMSVE.
The "Getting Started" section will walk you through how to begin using your NMSVE, and the overview of it's basic UI and Menu options.
I opened the box and took NMSVE out... now what?
I'm sure by now you've taken NMSVE out of the box and saw everything we offer in the packaging - this includes:
USB Type C charging cord
USB power adapter (if located in North America)
2 stickers (2/5 different designs... which did you get?? 😮✨)
and of course, NMSVE!
After unpacking everything and putting the box aside, you're left with NMSVE sitting in front of you.
"Now what?" you may ask.
Well, first things first. NMSVE only comes half-ways charged, so you'll need to take the included USB Type C cord and power adapter and put NMSVE on the charger until the LED on the side lights up blue/green. 
Once this is complete you can unplug NMSVE and turn the unit on using the switch on the backside of the device and move onto the next step.
Main Menu...
At this point, NMSVE will be powered on and show a red LED (assuming you haven't pressed any buttons yet). This is the indication that you've entered the Main Menu.
The Main Menu is where you choose what mode you'd like to enter. You have the option of, Default Mode, Split Mode or Loop Mode. You can read an in depth summary of these modes here.
Choosing which mode you'd like is as easy as pressing a button. 
While the red LED is solely lit up (from left to right):
Press button 1 for Default Mode
Press button 2 for Split Mode
Press button 3 for Loop Mode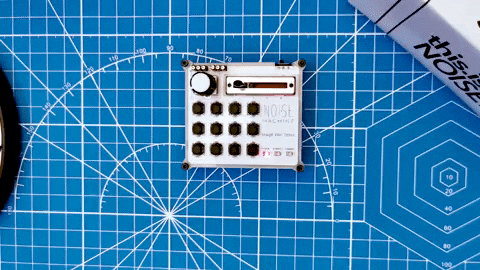 And that's it! 🍾
Just like that NMSVE is ready to connect to a device.
Troubleshoot
If you have any issues getting started with NMSVE please contact our troubleshoot email:
troubleshoot[at]thisisnoiseinc[dot]com